EPA ACE901 | Shirt Finisher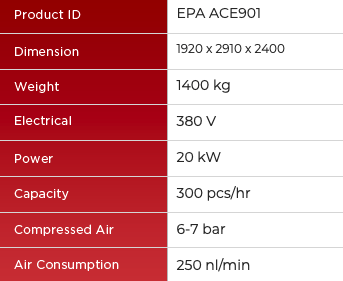 EPA ACE901 is a Shirt Body Press Machine with high-quality and fast open body ironing press for all shirt sizes excluding arms.
A Custom manufactured high-capacity vacuum motor integrated into the Shirt Finisher.
Specially designed interior and exterior dummies enable perfect pressing for front-rear body, yoke, sides and armholes
Easy to use Digital screen provides hourly and daily production reports
Smart-fault notification system enables easy detection of machinery malfunctions, trackable using the screen
Unique resistors and computerized temperature control system of Shirt Finisher provides precise heat adjustment and energy savings
A number of safety precautions taken at Shirt Finisher Machine protects the operator, including a 24V control panel and safety barriers
EPA ACE901 shirt finisher has electric ironing plates with homogeneous distribution feature.
Independently adjustable heat settings of interior and exterior dummies provides perfect ironing quality
Homogeneous nozzle water gun increases ironing quality
Perfect control with rear camera view with large FullHD screen
A Conveyor system can be manufactured to the requested size which provides distribution to stacking, buttoning, and folding tables.